The information contained in the oratab should always be updated, but it is not always reliable. If you want to know what Oracle installations you have in a server, better to get it from the Oracle Universal Installer or, if you want some shortcuts, do some grep magics inside the inventory with the shell.
The following diagram is a simplified structure of the inventory that shows what entries are present in the central inventory (one per server) and the local inventories (one per Oracle Home).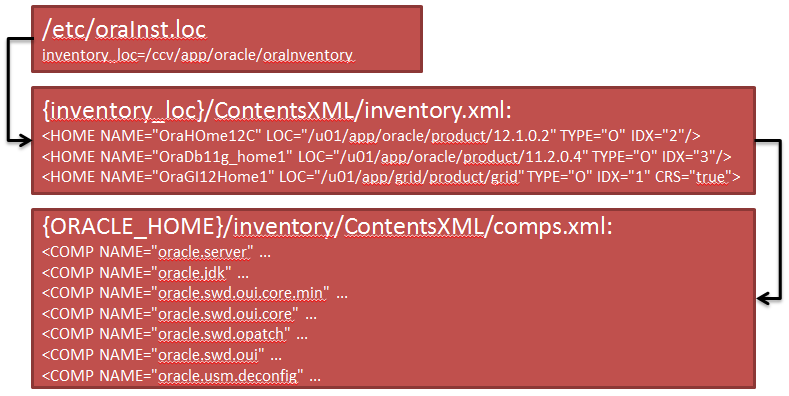 You can use this simple function to get some content out of it, including the edition (that information is a step deeper in the local inventory).
1

2

3

4

5

6

7

8

9

10

11

12

13

14

15

16

17

18

19

20

21

22

23

24

25

26

27

28

29

30

31

32

33

34

35

36

37

38

39

40

41

42

43

44

45

46

47

48

49

50

51

52

53

54

55

56

57

58

59

60

# [ oracle@testlab:/u01/app/oracle/ [17:53:48] [12.1.0.2.0 EE SID=theludot] 0 ] #

CENTRAL_ORAINV

=

`

grep

^

inventory_loc

/

etc

/

oraInst

.loc

|

awk

-

F

=

'{print $2}'

`

;

printf

"%-22s %-55s %-12s %-9s\n"

HOME

LOCATION

VERSION

EDITION

;

echo

----------------------

-------------------------------------------------------

------------

---------

;

for

line

in

`

grep

"<HOME NAME="

$

{

CENTRAL_ORAINV

}

/

ContentsXML

/

inventory

.xml

2

>

/

dev

/

null

`

;

OH

=

`

echo

$

line

|

tr

' '

'\n'

|

grep

^

LOC

=

|

awk

-

F

\

"

'{print $2}'

`

;

OH_NAME

=

`

echo

$

line

|

tr

' '

'\n'

|

grep

^

NAME

=

|

awk

-

F

\

"

'{print $2}'

`

;

comp_file

=

$

OH

/

inventory

/

ContentsXML

/

comps

.xml

;

comp_xml

=

`

grep

"COMP NAME"

$

comp_file

|

head

-

1

`

;

comp_name

=

`

echo

$

comp_xml

|

tr

' '

'\n'

|

grep

^

NAME

=

|

awk

-

F

\

"

'{print $2}'

`

;

comp_vers

=

`

echo

$

comp_xml

|

tr

' '

'\n'

|

grep

^

VER

=

|

awk

-

F

\

"

'{print $2}'

`

;

"oracle.sysman.top.agent"

)

ORAVERSION

=

`

grep

"PATCH NAME=\"oracle.server\""

$

comp_file

2

>

/

dev

/

null

|

tr

' '

'\n'

|

grep

^

VER

=

|

awk

-

F

\

"

'{print $2}'

`

;

if

[

-

z

"$ORAVERSION"

]

;

then

ORAMAJOR

=

`

echo

$

ORAVERSION

|

cut

-

d

.

-

f

1

`

;

ORAEDITION

=

"DBMS "

`

grep

"oracle_install_db_InstallType"

$

OH

/

inventory

/

globalvariables

/

oracle

.server

/

globalvariables

.xml

2

>

/

dev

/

null

|

tr

' '

'\n'

|

grep

VALUE

|

awk

-

F

\

"

'{print $2}'

`

ORAEDITION

=

"DBMS "

`

grep

"s_serverInstallType"

$

OH

/

inventory

/

Components21

/

oracle

.server

/*/

context

.xml

2

>

/

dev

/

null

|

tr

' '

'\n'

|

grep

VALUE

|

awk

-

F

\

"

'{print $2}'

`

[

[

-

n

$

ORAEDITION

]

]

&& printf "%-22s %-55s %-12s %-9s\n" $OH_NAME $OH $ORAVERSION $ORAEDITION;

# [ oracle@testlab:/u01/app/oracle/sbin [17:53:48] [12.1.0.2.0 EE SID=theludot] 0 ] #

HOME

LOCATION

VERSION

EDITION

----------------------

-------------------------------------------------------

------------

---------

OraHome12C

/

u01

/

app

/

oracle

/

product

/

12.1.0.2

12.1.0.2.0

DBMS

EE

OraDb11g_home1

/

u01

/

app

/

oracle

/

product

/

11.2.0.4

11.2.0.4.0

DBMS

EE

OraGI12Home1

/

u01

/

app

/

grid

/

product

/

grid

12.1.0.2.0

GRID

agent12c1

/

u01

/

app

/

oracle

/

product

/

agent12c

/

core

/

12.1.0.5.0

12.1.0.5.0

AGT
HTH