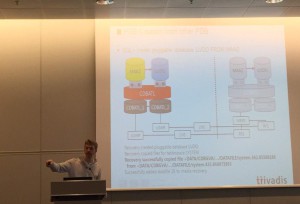 I am a member of the Oracle Database High Availability (HA), Scalability & Maximum Availability Architecture (MAA) Product Management team in Oracle. The team is part of the product development of the core database technologies.
I focus on Oracle Data Guard, Flashback technologies, and Cloud MAA.
Before joining Oracle in 2020, I have been a DBA, a team lead, a consultant, and a trainer for Oracle customers and partners for over twenty years with a special focus on Oracle Database and high availability architectures. Some of my former employers include well-known names such as CERN and Trivadis where I have gathered a wealth of Oracle Database as well as non-Oracle Database knowledge. In 2016 I was awarded the Oracle ACE Director status for my continuous contributions to the Oracle community; a title which – by Oracle policy – I, unfortunately, had to return now that I am part of Oracle.
In my spare time, I enjoy hiking, volleyball, splitboarding, and music.
Some nice things they said about me on social media (it's a long and funny story):
"That product manager should get a new job away from tech."
"Yeah, um, the product manager doesn't understand database programming. Look no further than knowing what 'A' stands for in ACID."
Get in touch on LinkedIn or Mastodon.
Where do I come from?
Where do I live now?
DISCLAIMER: The information in this blog is provided "AS IS" with no warranties, and confers no rights. The code, solutions and examples published here might not work in your environment. I will not provide support or help you troubleshoot in case you want to use them. Use the material at your own risk!
This blog does not represent the thoughts, intentions, plans or strategies of my current or previous employers. It is solely my opinion.
Please don't make any business decision based on the content of this blog.
Feel free to disagree with me, but I reserve the right to approve or delete any comment for any reason whatsoever (abusive, profane, rude, or anonymous comments) – so keep it polite, please.
The following two tabs change content below.