I have been a DBA/consultant for customers and big production environments for over twenty years. I have explained more or less my career path in this blog post.
Database (and application) high availability has always been one of my favorite areas. Over the years I have become a high availability expert (my many blog posts are there to confirm it) and I have spent a lot of time building, troubleshooting, teaching, presenting, advocating these gems of technology that are RAC, Data Guard, Application Continuity and the many other products that are part of the Oracle Maximum Availability Architecture solution. Customers fear downtime, and I have always been with them on that. But in my case, it looks like Yoda's famous quote worked well for me (in a good way):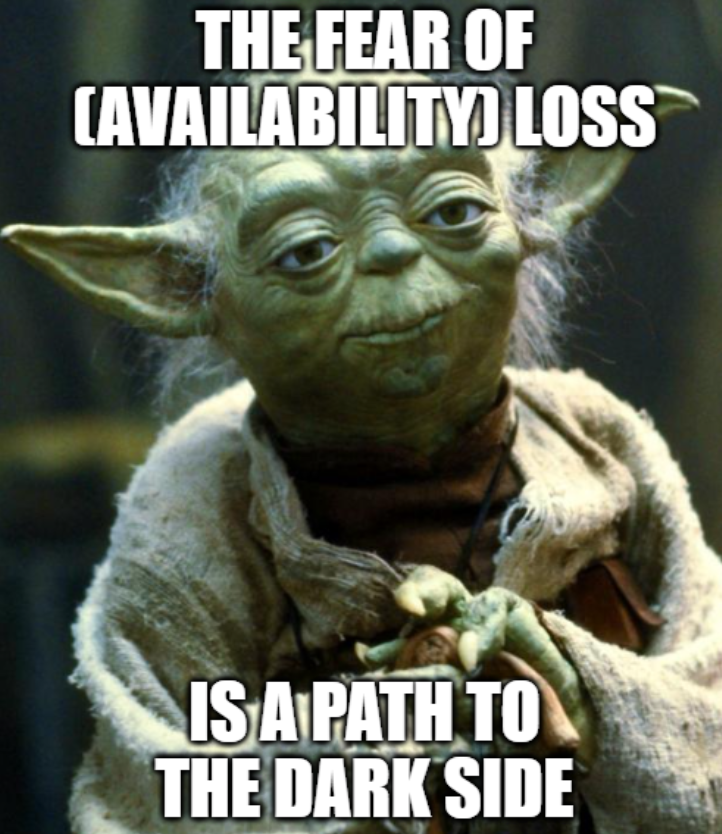 I'll be joining the Oracle Maximum Availability Architecture Product Management team as MAA Product Manager (or rather Cloud MAA, I will not explain here ;-))  next November.
(for those who are not familiar with the joke, the "Dark Side" is how we often refer to the Oracle employees in the Oracle Community 😉 )
I remember just like if it was yesterday that I was presenting some Data Guard 12c new features in front of a big audience at Collaborate 2014. There I have met two incredible people that were part of the MAA Product Management team: Larry Carpenter and Markus Michalewicz. Larry has been a great source of inspiration to improve my seniority and ease of presenting in front of the public, while Markus has become a friend over the years in addition of being one of the most influent persons in my professional network.
Now I have got the opportunity to join that team, and I feel like it's the most natural change to do in my career.
And because I imagine some of you will have some questions, there are some answers to questions I've been frequently asked so far:
MAA PM does not mean becoming team lead or supervising other colleagues, I'll be a "regular" PM
I will stay in Switzerland and work remotely from here
I will stay in "the conference circus" and keep presenting as soon the COVID-19 situation will allow to do so
Yes, I was VERY happy in Trivadis and it will always have a special place in my heart
Yep, that means no ACE Director award anymore 😉
Exciting times ahead! 🙂
The following two tabs change content below.