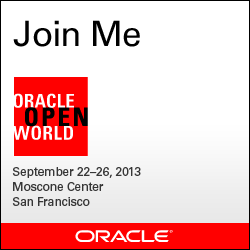 For truth's sake, I wasn't planning to head at Oracle Open World this year. I've never had this opportunity, and the same days my company is planning it's great internal conference (Trivadis Tech Event) that I always enjoy and I hope will be made public soon.
But this summer I've started contributing heavily to the rewriting of the RAC Attack project, now focusing on Oracle RAC 12c.
So I've seized the opportunity and asked my managers to send me at OOW (with partial success). The final result is that I'm attending Oracle Open World and I'll be glad to meet everyone of you! 🙂 I'll also mentor the RAC Attack (Operation Ninja) event, so make sure you come at the OTN Lounge, lobby of Moscone South, Tuesday and Wednesday between 10:00AM and 2:00PM and meet the whole team of RAC experts.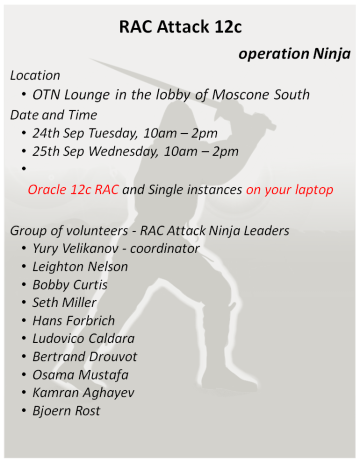 My Agenda
I'm very struggled with timing conflicts between the many sessions I would like to attend. It's a unique opportunity to meet and listen to all my favorite bloggers, technologists and tweeps,  and will be a pity to miss many of their sessions.
However, I've ended up with this Agenda, it's a semi-definitive one, but I reserve the right to change things the last minute, so follow me on twitter during these days.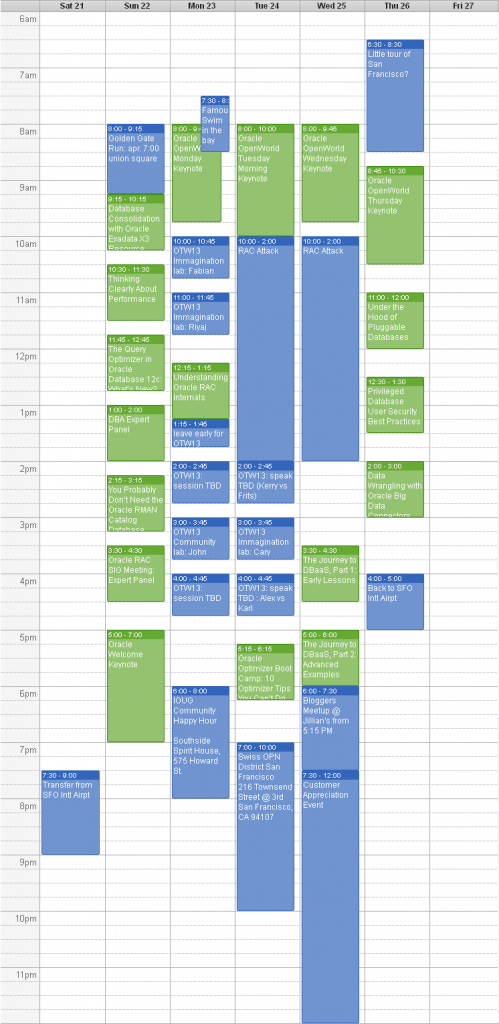 You may notice the two huge slots I've reserved for the RAC Attack, and many sessions I'll follow at the Oak Table World 2013. Most of my favorite technologists will head there.
I'll also attend to two fitness events on Sunday and Monday, if you're brave enough you can join us! 🙂
And as Yury says…
"If YOU or any of YOUR team's members participate in Oracle OpenWorld 2013 conference please please reach me. I would love to MEET UP."
—
Ludovico