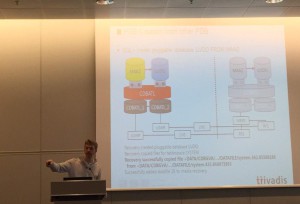 My name is Ludovico Caldara.
I'm an Oracle ACE Director and a database specialist with 19 years (and counting) of experience on the full Oracle stack (Clusterware, DataGuard, RAC, ASM, EM) but I also have deep knowledge of MySQL, PostgreSQL and MSSQL. I've administered literally thousands of databases in big datacenters so I have developed a natural leaning to automatization, monitoring and high availability. I'm a confirmed community contributor, frequent speaker at major conferences and co-writer of "RAC Attack 12c". I am member of the RAC SIG board, SOUG-R board and co-founder of the Italian Oracle User Group. I'm currently working as Principal Consultant for Trivadis, Switzerland.

Check out my LinkedIn Profile.
Where do I come from?
Where do I live now?
DISCLAIMER: The information in this blog is provided "AS IS" with no warranties, and confers no rights. The code, solutions and examples published here might not work in your environment. I will NOT provide support or help you troubleshoot in case you want to use them. Use the material at your own risk!
This blog does not represent the thoughts, intentions, plans or strategies of my current or previous employers. It is solely my opinion.
Feel free to disagree with me, but I reserve the right to approve or delete any comment for any reason whatsoever (abusive, profane, rude, or anonymous comments) – so keep it polite, please.
The following two tabs change content below.