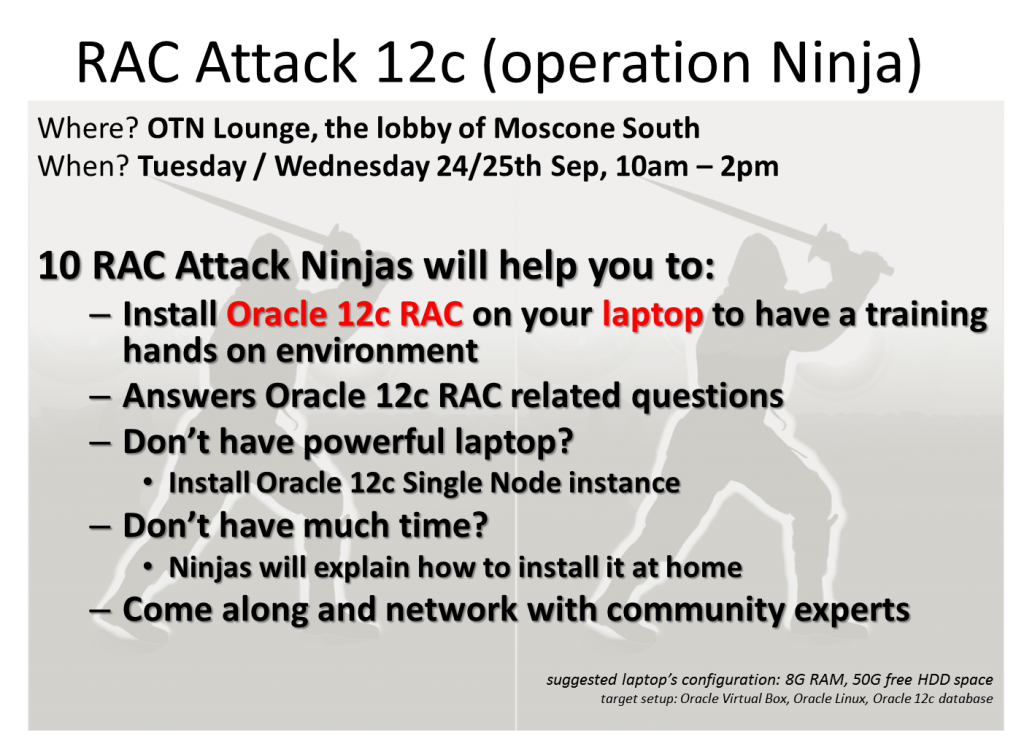 You're going to head at OOW this year. Your count down has started and you feel excited about that.
Have you planned carefully your AGENDA? If you're a RAC geek and you're not going to attend #RACAttack, the answer is NO!! 🙂 This year the RAC Attack we'll be mentored by real Ninjas, just come along to be part of them!
Reserve from one to three slots on your agenda and go to the OTN Lounge (@ the lobby of Moscone South) 
Launch RAC Attack at OOW 2013 (NINJAS Presentation)
On Sunday, from 4PM to 6PM, the OTN will open his lounge. At 4:45PM our team will present himself in just 15 minutes, along with the project. OTN will provide food and drinks (that's what I've heard 😉 ) so don't miss it for any reason.
RAC Attack at OOW 2013 Day 1
On Tuesday, from 10AM to 2PM, our fearless team of Ninjas will assist you during the installation from scratch of a real RAC environment on your laptop.
RAC Attack at OOW 2013 Day 2
There will be a second slot of 4 hours, the Wednesday, from 10AM to 2PM to give you a second chance to attend (and finalize your installation, start a new one, or just have fun together and discuss about complex RAC topologies,  for real RAC geeks!).
What differs this year?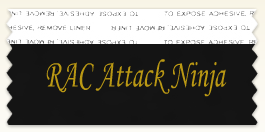 The new book covers the installation of a brand new Oracle RAC in release 12c on Oracle VirtualBox.  Still not enough?
Among the volunteers we'll have 5 Oracle ACEs or ACE Directors, some Certified Masters and a great representative of the RAC SIG board. You'll recognize us because of our bandanas… Don't worry, we are not an elite, we're just good DBAs eager to share our experience, ear from you, and share good time. Sounds good?
If you attend, you'll earn a special "RAC Attack Ninja" ribbon, so you can go back to work and boast with your colleagues (and your boss!).
And why not, propose a new RAC environment at your company and get it done with a little more confidence, for what it's worth, that's the real objective: practice with the RAC technology and get ready for a real scenario.
Maximize your experience @ RAC Attack
You can cheat and start reading the new version of the book (still in development): http://en.wikibooks.org/wiki/RAC_Attack_-_Oracle_Cluster_Database_at_Home/RAC_Attack_12c
Make sure that you accomplish some steps before starting your journey to OOW:
Make sure you have a recent laptop to install the full RAC stack. The new 12c is a little more demanding than the 11g, each RAC node would require 4Gb of RAM, but if you have 8Gb of RAM on your laptop we guarantee that it's enough.
The WI-FI connection at OOW is sub-optimal for heavy downloads (I'm euphemistic), so make sure you get your own copy of the Oracle software (Grid Infrastructure and Database) by following the download instruction from: http://en.wikibooks.org/wiki/RAC_Attack_-_Oracle_Cluster_Database_at_Home/RAC_Attack_12c/Software_Components
If you come without your own copy of the software, we won't give it to you it because of legal concerns, but hopefully we'll have some spare laptops available to allow you to complete your lab successfully. Just make sure to confirm your presence on the Facebook event page and we'll try to do our best (but cannot guarantee a laptop for everyone!).
Give us your feedback and spread the word!
If you plan attend (good choice! :-)) , take a business card with you and get in touch with us. It's a great networking opportunity. Take a lot of pictures, upload them on the social networks (the #RACAttack hashtag on twitter, the facebook page, the RAC SIG group on LinkedIn) and give us your feedback. Other RAC Attack events will be planned, so we can improve thank to your suggestions.
Hope to see you there.
Ludovico